The TR is the best indicator of a horse's distance ability. I recently had an email conversation with a TYP member that asked me about the TR and I found a perfect example on the free daily report for that day; It was Saratoga on September 1st, race 10, the Grade I "Spinaway" stakes going seven furlongs on the dirt. My personal minimum TR for seven furlongs is an 80 and just one horse in the race had an adequate TR, that was the #6, SIPPICAN HARBOR.
With a TR of 93, she stuck out like a sore thumb. The top three report selections were extremely low (64, 66, 66) and those low numbers were a big part of backing the #6. While in a race like this (two-year-old horses with a very limited number of starts) it's more difficult to eliminate horses based on their TR, because we really don't yet know what their best distances are. However, finding the right price is still the key thing to remember, plus these horses were going to have to improve so much to beat the six that I just didn't think was possible.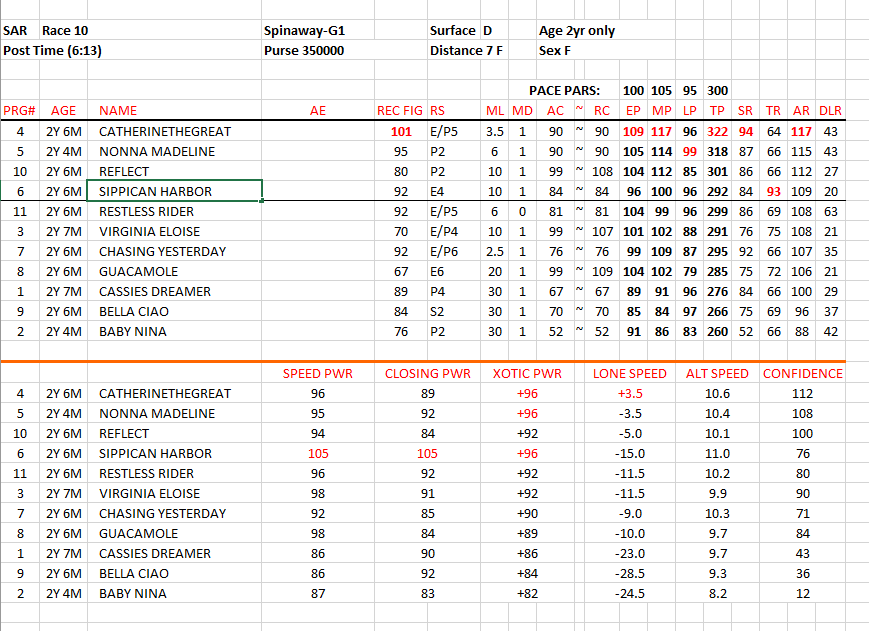 While the reports do a great job of piecing together a horse's TR, Pace and class to find the overall Ability Rating, not every facet of the data can be included in just the right amounts for every horse, hence the "handicapping".
I gave a couple more examples that didn't work out so nicely, but with the $34.00 payoff in the Spinaway, I was happy enough. Yesterday September 4th, I made just one bet. Mountaineer race 6, I bet the #4, CANDID OPINIONS. 95 is my minimum (exceptions can of course be made when I say "minimum") for one-mile races. Only four horses qualified. The #5, WHITE GLADIATOR appeared to be the best horse, he had the best TR with a 111, the best SR (tied for first) at 78, however his REC FIG of 58 coupled with 43 days off, didn't bode well for him and he was easily eliminated. His short price didn't offer any enticement either. A couple of other horses that qualified to win had short prices as well, so I landed on the #4. He had the 2nd best TR with a 104, the best late pace in the race and he was the best Power Closer in the race, all good things for a route race. Eliminating the #5 gave the #4 the best "ALT SPEED" as well. While I don't bet a lot of claiming races, this was too good an opportunity to pass up. He paid $31.80 to win.
A quick guide to using the TR, is to multiply the distance in furlongs by 12. So, 6.5 furlongs would be 6.5x12=78. Of course, you can move that line a few points, I like to have a 75 minimum for 6.5 furlongs but will go as low as 71 if there is a solid horse offering the right price; the lower the TR goes, the better price I will demand.
The TR is a great tool for eliminating horses and finding great bets on overlooked horses. Be sure and check out the TR on all the horses you want to bet and make sure they can get to the wire while still being a competitive play. I don't worry too much about the TR on races that are shorter than six furlongs, as I believe there are very few horses that can't at least be competitive at the five or five and a half furlong distances.
While the TR can accurately tell us the distance capability of each horse, nothing is set in stone. Class can play a big part when handicapping; a horse moving up into big allowance/stake races right out of the maiden ranks can be considered at any distance. Simply because they have very few races and their distance abilities are still mostly unknown. So, if you see a monster horse that broke their maiden at first or second asking at six furlongs and is now moving into a 1x allowance race at a mile, use plenty of caution and due diligence before you eliminate him as a contender.
Below is a quick chart for distance "sweet Spots"
TR distance chart
Furlongs Sweet Spot
6.0) 72
6.5) 78
7.0) 84
7.5) 90
8.0) 96
8.5) 102
9.0) 108
10.0) 120
12.0) 144
>12) 147